Rhode Island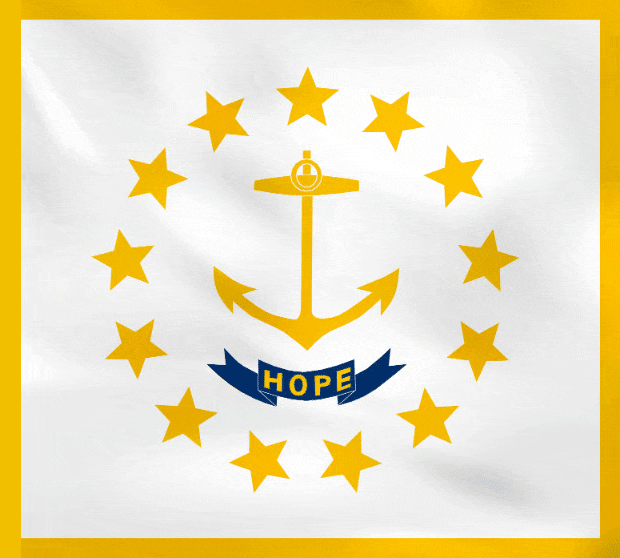 Rhode Island State Facts
Official Name:State of Rhode Island and Providence Plantations
Entered Union: May 29, 1790 (13th State)
Present constitution adopted: 1843
Fun Facts
State abbreviation/Postal code: R.I./RI
Nickname: The Ocean State
Origin of name: From the Greek island of Rhodes
Motto: ?Hope?
Slogan:"Unwind"
State symbols:
Bird:Rhode Island red hen(1954)
Fish:Striped bass (2000)
Shell:Quahog (1987)
Flower:Violet(1968)
Fruit:Rhode Island greening (1991)
Tree:Red maple(1964)
Mineral:Bowenite (1966)
Stone:Cumberlandite (1966)
Colors:Blue, white, and gold (in state flag)
Drink:Coffee Milk (1993)
Song:"Rhode Island, It's for Me" (1996)
Government
Capital: Providence
Governor: Gina Raimondo, D (to Jan. 2019)
Lieut. Governor: Daniel McKee, D (to Jan. 2019)
Secy. of State: Nellie Gorbea, D (to Jan. 2019)
General Treasurer: Seth Magaziner, D (to Jan. 2019)
Atty. General: Peter Kilmartin, D (to Jan. 2019)
U.S. Representatives: 2
Senators: Jack Reed, D (to Jan. 2021); Sheldon Whitehouse, D (to Jan. 2019)
See Also:Historical biographies of Rhode Island Congress members
Population
Residents:Rhode Islander
Resident population:1,056,298 (43rd Largest State, 2015)
10 largest cities (2010): Providence, 178,042; Warwick, 82,672; Cranston, 80,387; Pawtucket, 71,148; East Providence, 47,037; Woonsocket, 41,186; Newport, 24,672; Central Falls, 19,376
Race/Ethnicity: White (81.4%); Black (5.7%); American Indian (0.6%); Asian (2.9%); Other race (6.0%); Two or more races (3.3%); Hispanic/Latino(12.4%).
Religion:Catholic (43%); Protestant (27%);No religion (23%); Jewish (1%); Orthodox (1%); Jehovah's Witness(1%); Buddhist (1%) Muslim (0.5%);Hindu (0.5%); Mormon (0.5%).
Sex:Male (48.3%); Female (51.7%).
Age: Under 18 (19.6%); 18-64 (63.6%); 65 and over (16.8%). Median Age: 39.4
See Also: Additional Rhode IslandCensus Data
Economy
GDP: 58 billion dollars (44th in U.S., 2016)
Unemployment: 5.5% (2015)
Overview:Rhode Island's largest employers are the state government, the federal government (excluding armed service members), and health services. By a large margin, Rhode Islanders work in hospitals, pharmacies, and health insurance companies. Other large employers include local universities like Brown University. In terms of GDP, the largest industries after healthcare are tourism and manufacturing. Rhode Island is heavily involved in ship and submarine manufacturing.
Geography
Land area:1,214sq mi. (3,144km2)
Geographic center: In Kent Co., 1 mi. SSW of Crompton
Number of counties:5
Largest county by population and area: Providence, 626,667 (2010); Providence, 413 sq mi.
State parks/recreation areas: 14
Area codes
Tourism office
See more on Rhode Island:
Encyclopedia: Rhode Island
Encyclopedia: Geography
Encyclopedia: Economy
Encyclopedia: Government
Encyclopedia: History
Rhode Island Temperature Extremes
Rhode Island State History
The colony of Rhode Island began in 1636 when clergyman Roger Williamswas exiled from Massachusetts Bay. The Puritansdisagreed with Williams's religious views. He named his new settlement "Providence," claimingprovidence had brought him there.Williams was followed by other religious exiles who founded Pocasset, now Portsmouth, in 1638 and Newport in 1639. This religious plurality extended beyond the Christian faiths.Touro Synagogue (founded in 1763) is the oldest synagoguein the U.S.
Rhode Island grew despite setbacks in King Philip's War. Providence was attacked twice during the fighting. King Philip himself (Metacomet) was killed near modern-day Bristol.
Rhode Island prides itself on an open, independent attitude. Brown University, founded in 1764, was the first American collegeto accept studentsof all religions. Rhode Island saw theburningof theGaspeeand itdeclared independence two months before the colonies at large, in May 1776. Despite this, Rhode Island also has a complicated history with slavery; Rhode Island was the first state to outlaw slavery, but weak enforcement meant that Rhode Island was the largest slaveholding state in New England.Newport saw major growth as part of the Triangular Trade.
The state was at the forefront of the Industrial Revolution. The first textile mill of the Industrial Revolution, Samuel Slater's Mill,isin Rhode Island. The industrialization of the region led to growing class disputes. Traditionally, only property owners could vote, meaning that the working class had no influence in government.Inthe Ocean State,labor activistscreated their own rival government to thestate legislature.In 1842 this culminated in Dorr's Rebellion.As a result of the rebellion, voting rights were eventually extended to non-property owners with a $1 poll tax.
After the Civil War the country at large hurtled toward its largest period of industrialization. The Gilded Ageproduced a wealthy class of industrialists unprecedented in American history. Many of these wealthy families made Rhode Island their summer destination of choice; millionaires from across the Northeastbuilt extravagant estates in Newport. This was buoyed by a booming industrial sector, and an increase in tourism businesses.
After World War II, the once-major city of Providence hit a massive slump, with implications for the state at large.Its population decreased by nearly a third, it was rundown, and there were major issues with organized crime. Since the 1970s, Providence has refurbished many of its cultural sites; this has coincided with a larger blossoming of Rhode Island tourism heading into the 2000s. Rhode Island now has a strong arts community,a notable LGBT community, and it is again a popular tourist destination.
For the aspiring visitor,points of interest include the Roger Williams National Memorial in Providence, Samuel Slater's Mill in Pawtucket, the General Nathanael Greene Homestead in Coventry, the Newport mansions and Block Island.
Rhode Island Culture and Interesting Facts
Newport
The city of Newport was the iconic summer haven of the country's rich and famous. As a result, Newport is a place of many firsts:the first gas-lit street in the United States; the first U.S. Open in tennis; the first U.S. Open in golf; and the first ever speeding ticket issued for an automobile. Newport is also home to multiple colonial buildings, and the country's oldest library building.Newport's greatest claim to fame, though, isits historic "summer cottages." Many of them are now museums, offering a glimpse of the Gilded Age and the country's infamous "robber barons."
(Bonus trivia:John F. Kennedy married Jacqueline Bouvier in Newport in 1953.)
Newport Jazz Festival
Jazz may be a style of musicmost associated with Harlem and New Orleans, but the country's oldest annualjazz festival actually takes place in Newport. The introduction of a jazz festival to upper-class white Newport in 1954 was met with some skepticism and some issues (complaints from local residentsand discrimination againstblack musicians). Unrest and concerns about the crowds led to the festival moving to New York in the 1970s. After Rhode Island began embracing tourismin the 1980s, the Newport Jazz Festival returned to roost. Today it is one of the country's most significant jazz events.
Block Island
Block Island is a small, lightly populated island off the southern coast of Rhode Island. This little island has a big reputation as a gorgeous nature destination. The oceanic climate is a geographic rarity, keeping the island much more temperate than the rest of the Northeast. The island offers plenty of hiking, swimming, biking, and nature walks. It is also a famous haven for pirates?or apirate. The story goes thatCaptain Kiddcame to the island shortly before his arrest. While there, Kidd gave a fortune of gold and jewels to Mercy Raymond, of the (soon-to-be) wealthy Raymond family.
Beaches in the Ocean State
Rhode Island may be the smallest state in the country, but it has a lot of coastline. The many islands and bays of the Ocean State give it nearly 400 miles of coast. This abundance of beaches draws a lot of visitors in the summer months. The beaches also help support a network of related oceanic industries; local seafood and sailingare very important elements of the Rhode Island economy.
Famous Rhode Island Natives and Residents